The Volkswagen Vanagon is a classic and like all classics, it has its own unique traits.  Because of them, or in spite of them, we all fell for this boxy and lumbering, multi-purpose, made for road-trips and fun to drive vehicles.  Only a Vanagon owner really understands the joys and struggles of these machines.
We know. We own one. In fact, we've owned many more than one. Over the decades, we've taken these vans to Alaska and back, and into some of the most beautiful remote places in British Columbia. It only takes a whim to throw a bedroll and a campstove into the back of a Transporter or groceries into a Westy and find a spot beside a river to sleep for the night.
However, we also know that these vans aren't getting any younger and that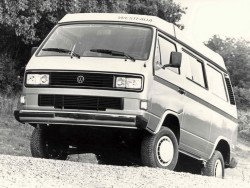 they all need maintenance. Tell us how you want to use your van and we can suggest a maintenance schedule that is suitable. Tell us how you want to modify your van to fit your lifestyle and we will source the parts from reliable suppliers like California Imports, Bus Depot, Van Cafe and Rocky Mountain Westy. We think Go Westy is like a candy store too!